Search for scripture references from the bible tab
To search for scripture references you'll need to start in the Sermon Editor.
Once you're in the editor:
Go to the right-hand side of the editor and you'll see a vertical stack of icons. The green icon in the middle that looks like an open book is where you'll find the Bible.

2. Click the icon and another drawer will open where you can search. Type the scripture you're looking for into the bar which looks like this:

3. As you type you'll see search results generated in the drawer below the search box. It will look like this: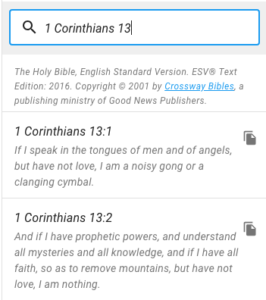 4. Repeat this process as necessary to find the information you're looking for.
PRO-TIP – If you want to change the translation you're in just click on the little grey gear icon above the search bar and you'll be able to select a new version in the window that opens for you.

Was this helpful?
Please share your feedback. If you need additional help, contact us.