Copying sermon ideas or scripture into the sermon editor
To search for sermon ideas and scripture references, start in the Sermon Editor.
Once you're in the editor:
Go to the right-hand side of the editor and you'll see a vertical stack of icons.
Click on the icon you want and another drawer will open where you can do a specific search. Type the topic or scripture you're searching for into the bar.
As you type, you'll see search results generated in the drawer below the search box. It will look something like this: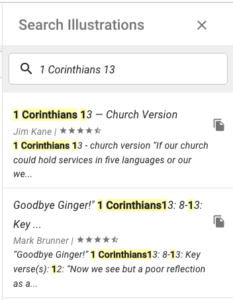 4. Click on the illustration, sermon, or scripture reference you'd like to use and a new drawer will open for you. At the top of the drawer you'll see a grey box that looks something like this:


5. If you click on this grey box, the entire illustration, sermon, or scripture passage will be copied to your 'clipboard' and you can then paste it directly into your sermon editor on the left.
6. If you'd like a smaller section of the illustration, sermon, or scripture reference, just copy and paste it in the traditional way by highlighting the desired area and either right-clicking or hitting "Control "C"' on your keyboard.
PRO-TIP: The copy feature is a quick and easy way to get content into your sermon editor. You can use the "block quote" icon in your editor toolbar to call out a scripture or an illustration in the editor and make it even easier to identify while presenting.
The block quote icon looks like this in the toolbar:

Was this helpful?
Please share your feedback. If you need additional help, contact us.