The sermon editor is where you can create, edit, download, print, and ultimately present your sermon.
Access the editor:
From the library, click the "+Add New" button in the top left of the screen.
Choose either a Sermon Manuscript or a Sermon Outline.
After choosing between a manuscript or an outline, you'll see the following options come available: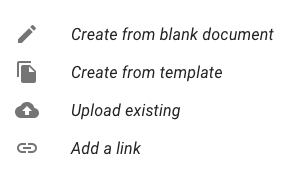 4. You can enter the sermon editor by selecting Create from blank document or Create from template. 
5. You'll be asked to name your sermon, and if you choose to use a template you'll be asked to pick a template.
6. The Sermon Editor should now open up for you.
While in the editor you can:
Create and edit your sermon
If you'd like more specific information about the editor toolbar, please click here.
Was this helpful?
Please share your feedback. If you need additional help, contact us.